Tim Persons, Chief Scientist & Managing Director of Gov't Accountability Office (GAO)
Summary of Presentation
The Government Accountability Office (GAO) conducted studies on utilizing AI across the federal government. This talk shares findings from three studies. The first asked where can AI have the biggest impact on HHS's health data? GAO found that the future is now, AI is here to revolutionize federal employees' work and we need to not overhype it. AI can help humans move away from mundane tasks and take on the higher versions of ourselves, such as engaging in more decision-making, being more citizen-centric, and enhancing technical and data skills.
The second question: what are the biggest risks that HHS, or other federal agencies, will face when utilizing AI? It turns out that culture is the most significant challenge. The federal government should work to establish an innovation sandbox to allow innovations and failures. The key technical risk is building reliable and explainable AI systems. We need appropriate applications of laws to enable people to trust AI systems.
Thirdly, GAO analyzed who should lead the charge in crafting HHS's AI strategy? There needs to be a joint, symbiotic effort between business and public. The Chief Information Officers and the Chief Data Officers should collaborate more effectively when implementing Information Technology (IT) solutions.
About The Presenter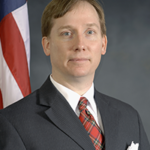 Dr. Timothy M. Persons is the Chief Scientist and Managing Director of the Science, Technology Assessment, and Analytics team of the United States Government Accountability Office (GAO – the oversight, insight, and foresight entity of the U.S. Congress). In addition to leading advanced data analytic activities at GAO, he also directs GAO's science, technology, and engineering portfolio – including technology assessment, technical assistance, engineering, and GAO's Audit Innovation Lab in support of the Congress and GAO.