Lucia Savage, Chief Privacy and Regulatory Officer, Omada Health
Summary: Omada Health is not a wellness company, but a healthcare delivery company that uses digital systems and data science platforms to take data from patients, and connect them to professional coaches outside doctors' offices. It aims to apply new facts to well-established laws and regulations to advance healthcare innovation.
Omada develops an application where individuals consult with their healthcare providers including Type II Diabetes and hypertension. Risks in cardiovascular health and mental health are also examined. Since Omada is a covered entity under HIPAA, it can't sell data. Omada is also HITRUST and SOC2 certified. It has served more than 250k individuals and accumulated over 50 million weigh-ins.
To bolster capabilities of the health care professionals, diverse digital data is collected by Omada Health, including patient profiles and health history, private/group messages, activity trackers and HealthKit, medical device data, survey and narrative response. Mental health assessment data will be coming soon.
With data privacy and transparency, data could be collected with trust and be utilized to improve individualized care. But where are the incentives for good privacy behavior and how does an organization get a balance? One recommendation is to build a stack inside HIPAA since it is needed to incentivize digital health as healthcare. In addition, HHS should hold digital health to the same standards as other providers and standardize the rules. Right now, digital health is in the health care system but the health care system isn't in digital health. That is the challenge left for us.
About The Presenter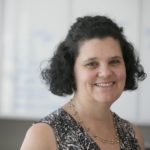 Lucia Savage is a nationally-recognized thought leader on using HIPAA to advance digital health while protecting privacy. She drives Omada Health's continued commitment to advancing digital health, including the safe, secure, and effective handling of participants' personal health information. She currently serves as Vice-Chair and Chair Elect of Academy Health's Committee on Advocacy and Public Policy. Prior to joining Omada, she served the Obama Administration as Chief Privacy Officer at the U. S. Department of Health and Human Services Office of the National Coordinator for Health IT. She first implemented HIPAA for Stanford University in 2000, and later oversaw the HIPAA compliance and data strategy for California's pre-ACA health insurance exchange, PacAdvantage, where she served as General Counsel. Lucia has a B.A. with Honor from Mills College and received her Juris Doctor summa cum laude from New York University School of Law.