Summary of Presentation: 
Many Americans are familiar with a retail space where a person orders a product from Amazon and it shows up at your house in 24 or 48 hours or less. Unfortunately, that experience does not happen in human and social services. Unite Us has built a community-wide care coordination platform that allows health, human, and social service providers to engage with each other in a secure HIPAA compliant Federal Information Processing Standard (FIPS). Many human and social service providers, however, might not have the technology for this system. Unite Us' team leads them through a change management process, to bring on these community-based organizations and create value for them to participate in our network. 
Unite Us has rolled this concept out across 38 states. North Carolina is a great example to highlight. North Carolina received managed MedicaidMedicaid is a joint federal and state program that, together with the Children's Health Insurance Program (CHIP), provides health coverage to over 72.5 million Americans, includi... More and they wanted to build infrastructure. To better address the social determinants of health"the conditions in which people are born, grow, live, work and age that shape health. Social determinants of health include factors like socioeconomic status, education, neighborho... More, healthcare practitioners need to be able to prove that people are receiving the services that they've requested. North Carolina created infrastructure across all 100 counties, leveraging some of their Medicaid power of prepaid health plans having to use a common infrastructure, where they can send and receive data around shared clients. This has been expanded to all citizens of that state. This has been  transformative because as part of the 1115 waiver, they can now pay for social interventions on an initiative called Healthy Opportunities. So they're spending $650 million on Lyft rides, on medically tailored meals, or on up to six months of someone's rent. This demonstrates that if  the healthcare system wants to address the social determinants of health, the organizations that actually provide those services are extremely important. 
Unite Us is building a national digital infrastructure allowing providers to see if the person received the services they needed. Most importantly, it can help healthcare providers verify what the outcome was across a host of different service categories, including education, employment, housing, legal finance, and food. As more states adopt value-driven CBO performance and payment models that cover these interventions, those innovations will start to create standards which will then influence policy. And once we can start influencing policy where we have a redistribution of dollars from healthcare to social services, we can really start to move the needle. But we're not going to be able to address social determinants of health simply by identifying them, you actually have to create infrastructure to prove that person, that patient, that member, that client has received the services that they're looking for. And so from an infrastructure component, we've built the electronic health record meets the HIE for everything nonclinical.
About The Presenter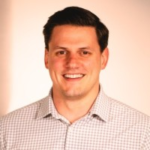 Taylor Justice is Co-founder and President of Unite US, a platform displaces legacy resource directories and single direction referrals by digitally connecting community services including housing, education, employment, behavioral health, etc. He is often evangelizing the need for technology and collaboration within the health, human and social service sectors. Prior to Unite US, he worked as Partner and Co-Founder of HigherEchelon, Inc. and Sales Engineer at JDSU. Justice holds an MBA from Columbia Business School, and a BS from United States Military Academy at West Point.