Vivian S. Lee, President, Health Platforms Verily
Summary of Presentation
Verily works with partners at Alphabet and Google to build tools to co-produce health between patients and healthcare professionals. The blood glucose instrument they built works with an Onduo app to record patients' glucose levels automatically.
To explain how the tool works, let's review Steve King's story. Steve lives in Georgia and was diagnosed with diabetes. Instead of recording the meals in the journal in a traditional way, he can take pictures of his food and snacks that the app recognizes, learning what foods affect his glucose level and how exercise can improve it. Through synchronized texting the coach app can provide motivation. Successfully, Steve lost 20 pounds and reduced blood sugar.
Verily believes that AI algorithms can also be deployed to interpret retinal images to help diagnose diabetes and provide specialty care to patients, especially in countries like India where there are not enough ophthalmologists. We can use AI for both primary and specialty care in ways that are proactive and preventative.
About The Presenter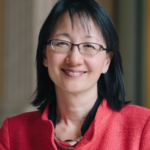 Vivian S. Lee, M.D., Ph.D., M.B.A., works closely with Verily's clinical and engineering teams to develop products and platforms that can support health system improvement and advance population health. She is also the author of The Long Fix: Solving America's Health Care Crisis with Strategies that Work for Everyone. Formerly, as dean, SVP and CEO, she led University of Utah Health, an integrated health system, academic campus, and health plan that has been recognized for its health care innovations and ranked first among university hospitals in quality and safety. As a healthcare executive and over her career as an NIH-funded MRI researcher, she has published a textbook and over 200 articles in leading journals including JAMA and New England Journal of Medicine. Vivian was elected to the National Academy of Medicine in 2015. A Rhodes Scholar, she is a graduate of Harvard-Radcliffe Colleges, Oxford University, Harvard Medical School, and NYU Stern School of Business.