Robert Fields, Senior Vice President CMO Population Health, Mount Sinai Health Partners
Summary of Presentation: 
Mount Sinai is an integrated health system in New York City that is comprised of eight hospitals. Mount Sinai has made significant bets on value based care over the last few years. Dr. Robert Fields leads a network of 4,000 physicians covering about 400,000 lives, and lines of business that evaluate risk, especially for MedicaidMedicaid is a joint federal and state program that, together with the Children's Health Insurance Program (CHIP), provides health coverage to over 72.5 million Americans, includi... More, fee for service MedicareMedicare is the federal health insurance program for: people who are 65 or older, certain younger people with disabilities, people with End-Stage Renal Disease (permanent kidney fa... More and Medicare Advantage. This work has been based on other work where they leveraged technology platforms to piece together a network of community based organizationsCommunity-based organizations (CBOs) work at the local level to meet community needs. They include social service agencies, nonprofit organizations, and formal and informal communi... More into the care model.
Mount Sinai has approached the problem of social determinants from the pre-intervention phase to intervention phase, which has become easier through the standardization of our workflows and assessments throughout the system. Sinai as a hospital has been around for 160+ years, but this system is young, having only been around for about five and a half years. Mount Sinai is now embarking on screening through patient directed screenings on a  patient portal or through waiting rooms using every touchpoint opportunity as a means of screening. The cultural dimension also impacts the process of embedding screening as Mount Sinai is leveraging Epic as its EMR to integrate with technology platforms and others to facilitate those workflows. In all that is fairly standard.
Mount Sinai has also partnered with a data company to integrate both claims and commercially available data from data brokers torun it through machine learningan application of AI that provides systems the ability to automatically learn and improve from experience without being explicitly programmed. Machine learning focuses on the devel... to evaluate which of its 400,000 lives will end up in the hospital unplanned in the next 30 days. By leveraging this commercially available data, Mount Sinai can evaluate eight domains of social determinants: housing, transportation, financial issues, caregiver support, and others. Prior to contacting patients, Mount Sinai can use this data to ask the right questions and carry out its assessments in a standardized way. .
Mount Sinai has also been doing significant work on trying to measure the effectiveness and the return on investment for the social determinants of health"the conditions in which people are born, grow, live, work and age that shape health. Social determinants of health include factors like socioeconomic status, education, neighborho... More. For example, what is the ROI of housing, for instance, or of transportation? Mount Sinai hopes to address this through solid standardized workflows on data collection, both at the assessment level, the intervention level, and then the outcomes level with those referrals.
About The Presenter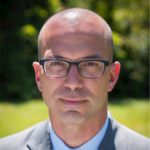 Robert W. Fields is the Senior Vice President and Chief Medical Officer for Population Health. He specializes in family medicine and has 15 years of demonstrated success improving the health of populations by addressing outcomes through community-based accountable care organization (ACO) models. Recently Fields served as Medical Director of the Mission Health Partners ACO. Previously, Fields worked at the University of Florida College of Medicine as a Clinical Assistant Professor and co-founded Vista Family Health—a private practice clinic focused on leveraging health information technology to improve the quality of health for the Latino population. Fields holds an MD from University of Florida College of Medicine, an MHA from University of North Carolina at Chapel Hill, and a BA in Spanish from University of Florida.