Summary of Presentation 
The HHS emPOWER Program is a partnership between the Assistant Secretary of Preparedness and Response (ASPR) and the Centers for MedicareMedicare is the federal health insurance program for: people who are 65 or older, certain younger people with disabilities, people with End-Stage Renal Disease (permanent kidney fa... More and MedicaidMedicaid is a joint federal and state program that, together with the Children's Health Insurance Program (CHIP), provides health coverage to over 72.5 million Americans, includi... More Services, which provides dynamic data and mapping tools to help communities protect the health of more than 4.1 million Medicare beneficiaries who live independently. The Program is launched in response to the public health transition from hospitals to communities. Technology enables healthcare in residence, but this becomes an issue in the event of a disaster due to a lack of power. 
The question ASPR regularly asks is: How can we use data in emergencies? The Program mined big data from various sources to map the potential needs. They developed the HHS emPOWER Map to identify where the at-risk people are and what they are at-risk from, and built a de-identifiedA record in which identifying information is removed. Under the HIPAA Privacy Rule, data are de-identified if either: an experienced expert determines that the risk that certain in... More dataset to recognize a variety of departments involved in a patient's health for cooperative emergence planning. They also brought in an entire ecosystem of information to conduct life saving outreach for a number of emergencies across the country. This data was leveraged by St. Thomas and St. Croix for dialysis patient evacuation. 
Then how does one teach people how to use the data and bring partners along? Using apps and giving online training to build the capacity at the state level are great approaches. The Program also proposes to empower AI for virtual assistants, such as Alexa and Google, to provide information in real time and build portability to first responders.
About The Presenter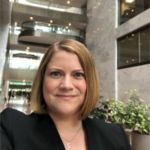 Kristen Finne, is a Senior Program Analyst in the Office of Emergency Management and Medical Operations in HHS' Office of the Assistant Secretary for Preparedness and Response and has 20 years of expertise in public health and health care policy, programs, service delivery, and research. Ms. Finne, in her current role, assesses disaster-induced stress on the health care system and develops interventions to minimize adverse health outcomes for at-risk populations with access and functional needs. She is also the Director for the HHS emPOWER Program, an ASPR and Centers for Medicare and Medicaid Services joint collaboration, that provides Medicare data, maps, and tools to support federal-to-community emergency preparedness, response, recovery and mitigation activities for beneficiaries that live independently and rely upon electricity-dependent medical equipment and healthcare services.